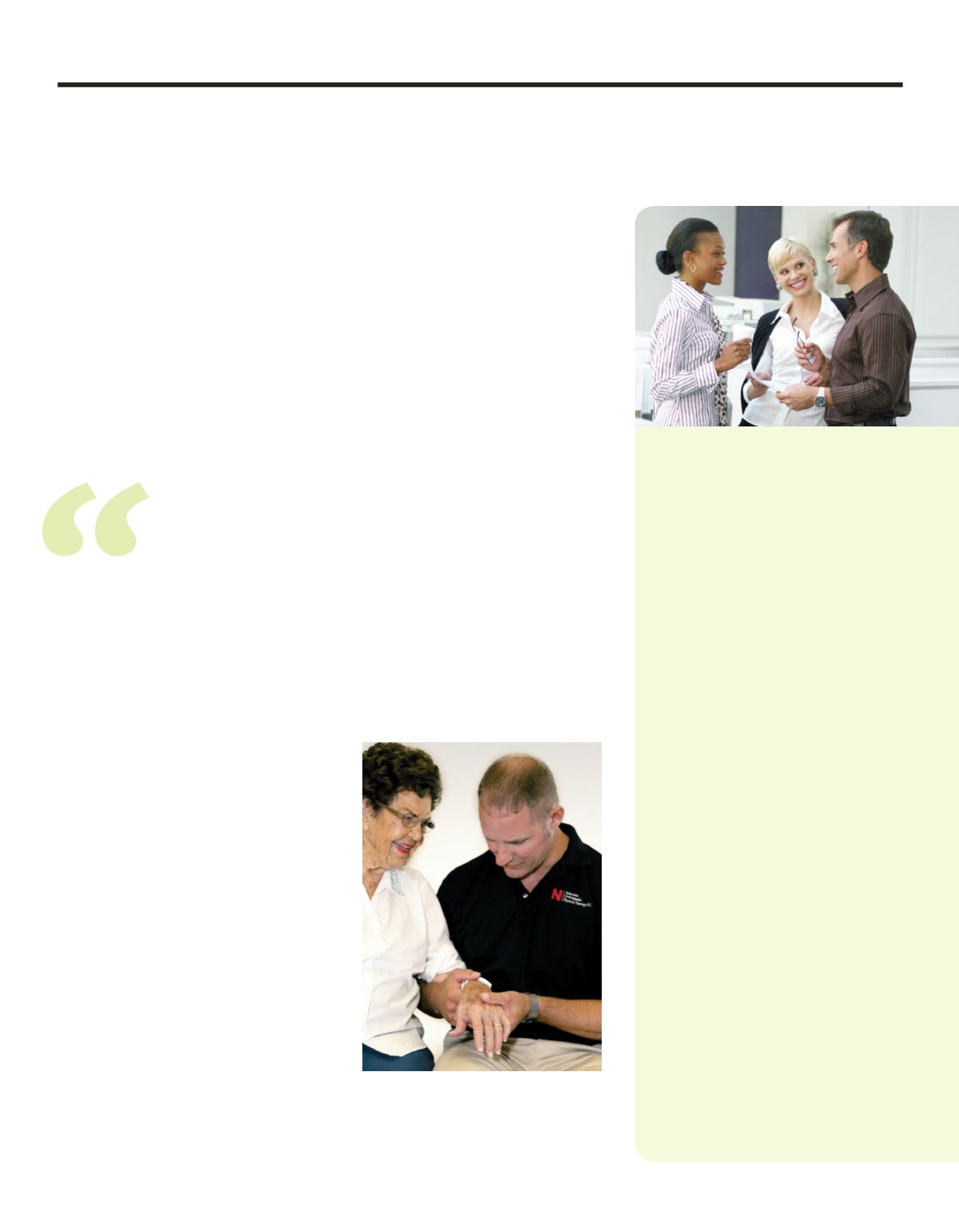 GREAT
Connections
SPRING 2017
5
Communications was coming to Fremont, Kelli Swanson put a package of services
together for us to review. It was an easy decision, since we were able to save money
and get faster Internet speeds by going with Great Plains Communications."
Great Plains Communications installed Internet and phone services at Nebraska
Orthopaedic Physical Therapy's Fremont location first, then added these services in
two phases at the Elkhorn location. Swanson explains, "When the Elkhorn location
opened, our company couldn't provide Internet service in that area yet. So we installed
phone service only. In February 2017, Great Plains Communications was able to con-
nect the Elkhorn location with our Internet service since our fiber network in the area
was complete."
Responsive Local Service and Support
By using Great Plains Communications for both services at both locations, Nebraska
Orthopaedic Physical Therapy is benefiting from enhanced communications as well
as the convenience of working with a single provider.
Tessendorf says, "We love being able to call
someone locally and discuss options with
our phone and Internet services. Tammy
Hovendick at Great Plains Communications
has helped with our rollover and forward-
ing issues with phones as well as the fax line.
She's stayed late and communicatedwith our
IT guy to make sure we were satisfied with
how everything was working. I appreciate
that kind of customer service."
What's ahead for Nebraska Orthopaedic
Physical Therapy? Tessendorf replies, "Our
goals for 2017 are to continue to provide
excellent customer service to the Fremont
community and grow our Elkhorn loca-
tion. In Elkhorn, we want to be the place
that provides high-quality care in the area.
With Great Plains Communications assisting us with efficiently communicating with
patients, doctors and local schools, I believe these goals can be achieved."
Stand Up for Health
and Productivity
"Sit down and get to work." You probably
remember teachers saying that during your
school years. But was it the best advice? Some
research suggests that long periods of con-
stant sitting inhibit circulation and flexibility,
decrease attentiveness and slow the body's
calorie-burning mechanisms. It's even been
dubbed the Sitting Disease.
This information has led more companies to
offer employees the option of working at a
standing desk. The idea isn't new; history
features many prominent standing desk users
including Thomas Jefferson, Ernest Hemingway
and Winston Churchill.
Even if you don't want to invest in standing
desks at your company, there are other ways
to incorporate more standing into the workday:
•
Stand up while talking on the phone.
Doing so helps many people stay alert and
adds energy to their voices—particularly
useful during sales calls.
•
Have stand-up meetings.
It's almost
guaranteed that these meetings will take
less time.
•
Take regular activity breaks.
It can be
as simple as getting up every hour for a
five-minute walk around the hallway.
Is it time for your company to stand up and
take notice?
It was an easy decision, since we were able to save money
and get faster Internet speeds by going with Great Plains
Communications."
—
ROSS TESSENDORF
, OWNER, NEBRASKA ORTHOPAEDIC PHYSICAL THERAPY
Ross Tessendorf (Owner PT, DPT, ATC, CSCS)
helps ease neck pain for a patient.