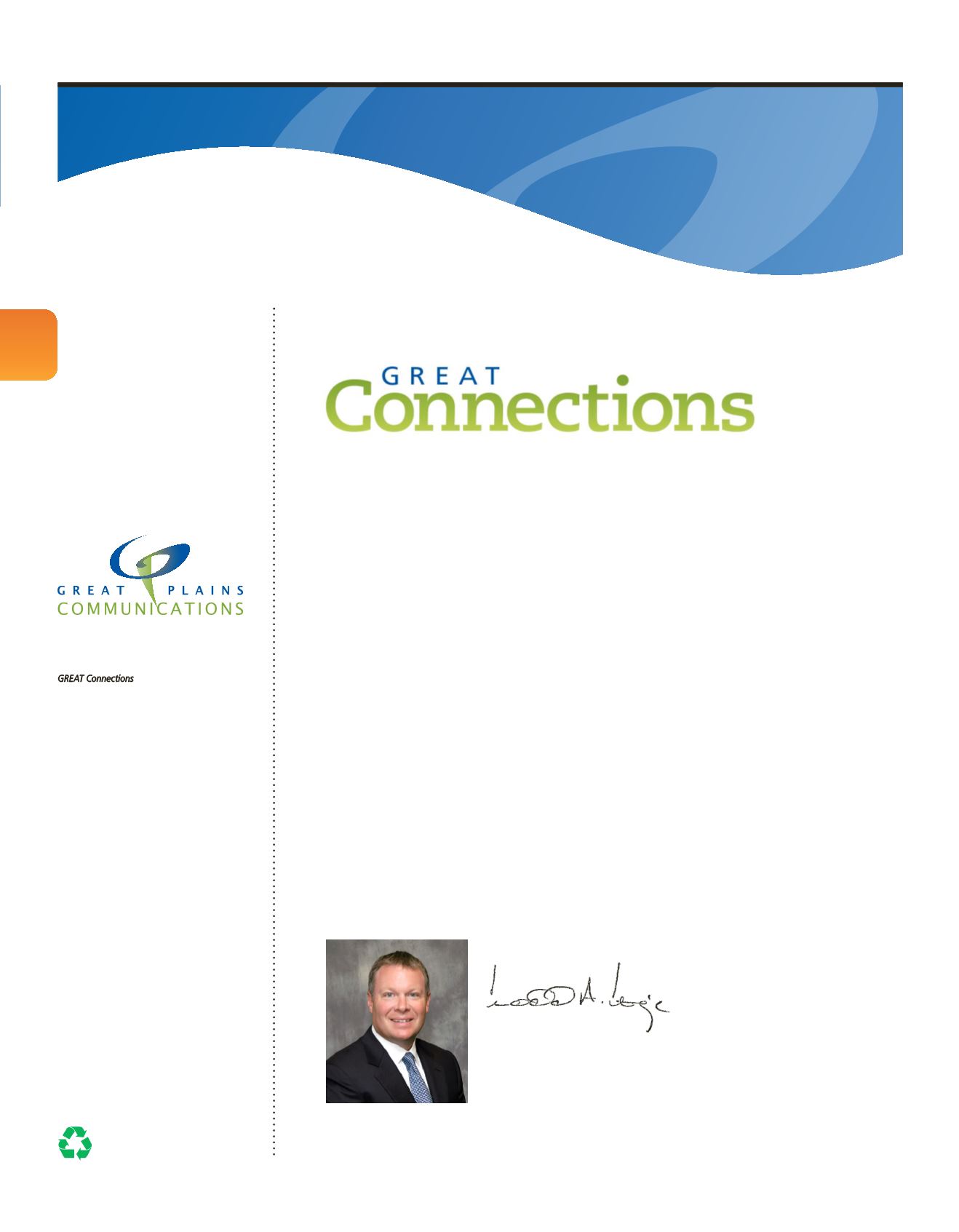 2
SPRING 2017
Great Plains Communications takes pride in delivering service to
healthcare providers.
As a communications company, we recognize how vitally
important our services are to activities including the secure transmission of electronic
health records and the exchange of information between patients and their providers.
This issue of
GREAT Connections
takes a look at healthcare and its relationship to com-
munications technology. We begin on page 3 by
Taking the Pulse of Healthcare Tech-
nology
, which Great Plains Communications helps support with our Internet services.
On the back cover, you'll find a testimonial from
Methodist Health System
.
A Business Spotlight on Nebraska Orthopaedic Physical Therapy
is featured on
pages 4 and 5. Its locations in Fremont and Elkhorn offer comprehensive physical
therapy services for a wide range of diagnoses, injuries and conditions. Great Plains
Communications keeps these clinics connected with Internet phone and services.
Even businesses outside of healthcare need to "operate" on their budgets to remove
unnecessary expenses; check out page 6 for
Cost-Cutting Strategies
. Then on page 7,
we remind you that
Password Policy is Critical to Security
.
Great Plains Communications can help you achieve a healthier bottom line with our
cost-efficient products and services. Give us a call to discuss your goals.
Sincerely,
Todd Foje
Chief Executive Officer
SPR
17
GREAT Connections
is a publication of:
Great Plains Communications, Inc.
1600 Great Plains Centre
PO Box 500
Blair, NE 68008
No part of this publication may be reproduced,
stored in a retrieval system or transmitted in any
form, electronic, photocopying, recording,
mechanical or otherwise without the prior written
permission of Great Plains Communications.
All rights are reserved.
Editorial and circulation contact:
Laura Kocher
Lkocher@gpcom.com
402-456-6429
All brand names and product names used in
this publication are trade names, service marks,
trademarks or registered trademarks of their
respective owners.
Extra copies of this issue are available to our
business customers on a limited basis while supplies
last. Contact 402-456-6429 to make a request.
Copyright© 2017 by Great Plains Communications
and Cornerstone Publishing Group, Inc.
Postmaster send changes to:
Great Plains Communications
1600 Great Plains Centre
PO Box 500
Blair, NE 68008
PRINTED ON RECYCLED PAPER
Connections
G R E A T