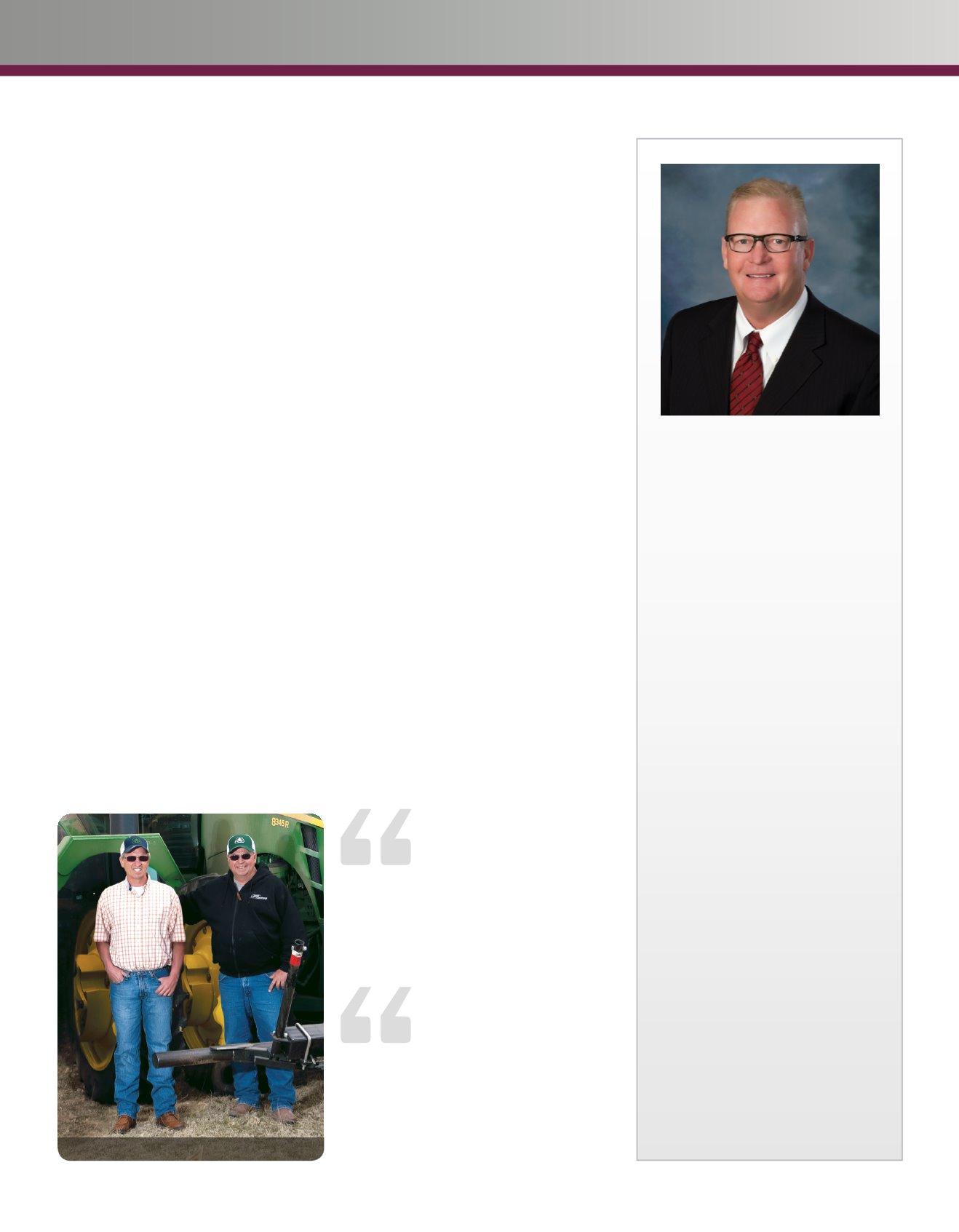 There's a good reason that "Family" is at the center of Bernhardt Family Farms. Kurt's
wife, Kristi Bernhardt, is part owner and helps in the field, as well as with the books. The
couple's two older children, Preston and Alexa, are now working for the family business
and the younger ones, Austin and Ryan, are anxious to follow suit someday.
Adams Bank & Trust Lends a Hand
John Paisley, President of Ag Banking for Adams Bank & Trust, has worked with Kerry
and Kurt Bernhardt since they became customers of the Imperial branch in 1999. Says
John, "Kerry and Kurt had been experiencing officer turnover at other banks and were
introduced to me at Adams Bank & Trust. They've been some of our top customers ever
since. They use the broad scope of services we offer agricultural businesses and we're
proud to help facilitate their farm's growth. Over the years, we've helped them make
purchases including real estate, grain storage, farm buildings, and irrigation equipment."
When the banking relationship began, Adams Bank & Trust consolidated the loans of
Bernhardt Family Farms from various lenders to make things simpler and structure the
debt of the operation. Consolidating better allowed for expansion, such as the major 2004
land purchase from a retiring farmer. John notes, "Our bank provides loans along with
other financial resources and enterprise analysis. These services, combined with the other
important relationships the Bernhardts have developed in and around Chase County,
have allowed their business to grow and prosper."
Kerry says, "We started from ground zero and John Paisley was gracious enough to take
us on. Whenever we throw an idea at John, he's open-minded and flexible in his response.
Whether we want to buy land, machinery, or pivots, John always listens with concern and
understands. Since John has an ag background, we rely on him for advice and outside wisdom."
Kurt agrees, noting with a smile, "The people at Adams Bank & Trust are always willing to
help, no matter what we need, and we appreciate that. Of course, the real reason we like
banking at Adams Bank & Trust is that John buys us lunch."
OWNER, BERNHARDT FAMILY FARMS
John Paisley began his banking career
as a loan officer with Abbott Bank. He
joined Adams Bank & Trust in 1992
as an Ag Loan Officer and later went
on to become Branch Vice President,
Branch President, and Region President.
He is currently President of Ag Banking
In this role, John is the driver of business
development for the Ag Department,
sourcing and developing business
aligned with the bank's strategic plan,
credit culture, and core values. He
establishes, maximizes, and maintains
positive relationships with existing and
potential customers. He also coaches
and develops high-potential bankers
as a cohesive team to service customers
and ensure that credit quality guidelines
Notes John, "My ag experience has
been rewarding and fun as new tech-
nology has developed and different
markets have opened up in agriculture.
I remain focused on building and
maintaining strong relationships that
are beneficial to the client and our bank.
The most rewarding part of my job is
seeing clients succeed in business."
willing to help, no matter
OWNER, BERNHARDT FAMILY FARMS
Kurt Bernhardt (left) and Kerry Bernhardt
Photo by Pages of Time By Ann