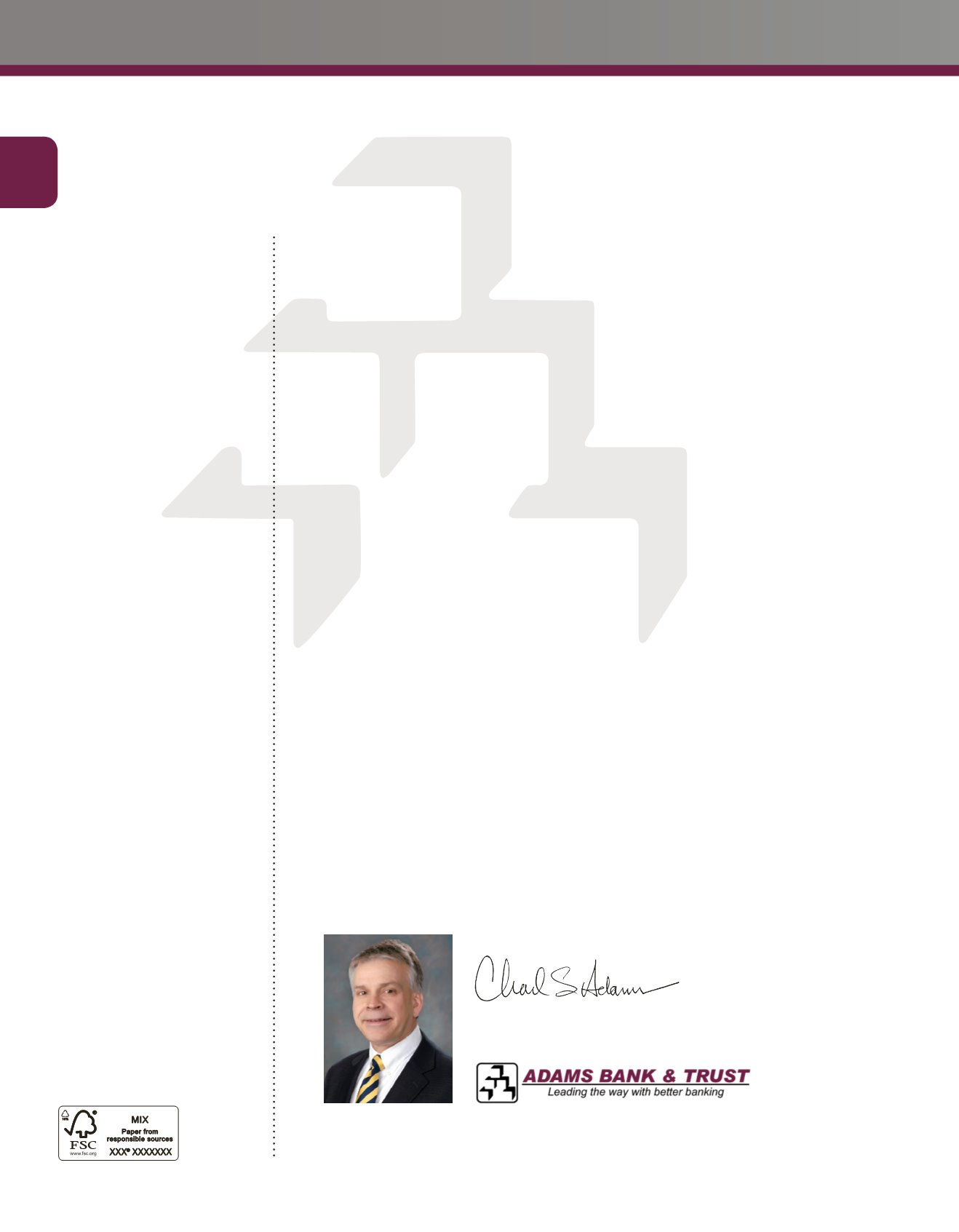 ADAMS BANK & TRUST LOCATIONS
Call us toll free at 1-800-422-3488.
Adams Bank & Trust has eighteen
locations in Nebraska, Kansas, and
North Platte 308-532-5936
Colorado Springs 719-448-0707
Fort Collins 970-667-4308
More for Your Business is a publication of
315 North Spruce, Ogallala, NE 69153
No part of this publication may be
reproduced, stored in a retrieval system
or transmitted in any form—electronic,
photocopying, recording, mechanical, or
otherwise—without the prior written
permission of Adams Bank & Trust. All
Editorial and Circulation Contact:
Lana Shaw, 315 North Spruce
Ogallala, NE 69153, 308-284-4071
All brand names and product names
used in this publication are trade names,
service marks, trademarks, or registered
trademarks of their respective owners.
Extra issues are available to business
customer employees on a limited basis
while supplies last. Contact:
Lana Shaw, 315 North Spruce
Ogallala, NE 69153, 308-284-4071
Copyright© 2014 by Adams Bank & Trust
and Cornerstone Publishing Group, Inc.
Postmaster send changes to:
Lana Shaw, 315 North Spruce
Agriculture is more important than ever,
be, with an expected world population of nine billion that will need to be fed by 2050. With
eighteen locations in the agricultural states of Nebraska, Kansas, and Colorado, Adams Bank
& Trust takes a strong interest in this industry, which is reflected in the
Business Spotlight on
Bernhardt Family Farms
More For Your Business
I encourage you to read about Bernhardt Family Farms on pages 4 and 5.
Brothers Kerry and
Kurt Bernhardt have an impressive history
of successfully meeting challenges through hard
work and strong community relationships. Adams Bank & Trust is honored to have played a
role in helping Bernhardt Family Farms grow over the past three decades and we look forward
to seeing what the future brings.
Regardless of what type of business you're in, it's important to cultivate a work environment
that will reap rewards. On page 3, check out
How Does Your Business Look to Customers?
You'll find advice on making a better first impression with customers. Don't miss the good
news on page 6 that you can actually
Have More Fun, Get More Done
morale, creativity, and teamwork.
Our regular feature on page 7,
Investing in Our Communitie
s, highlights recent donations
made by Adams Bank & Trust to the
Northwest Kansas Foundation for HOPE, Crohns and
Colitis Foundation, Ed and Ruth Lehman YMCA, and Ogallala Senior and Junior Legion
Baseball
. These donations are planting the seeds for growth in important community
For banking services to help your business grow, I invite you to call or stop by Adams Bank
& Trust. We look forward to lending you a hand.
President
Cover photo by Pages of Time By Ann